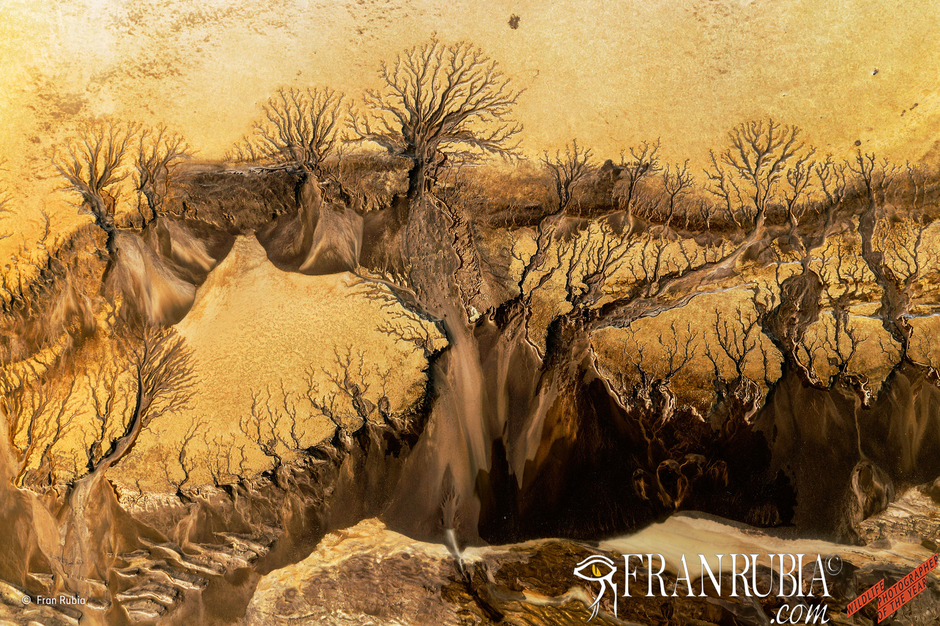 El bosque de agua de deshielo', tomada en Islandia en 2014, presenta el singular 'paisaje' que deja el agua de un glaciar en la tierra, sorprendente estampa que parece mostrar árboles, montañas y valles en lo que es "un pequeño charco de barro de un metro cuadrado". "Por unas filtraciones y la densidad del barro ha formado esa figura, absolutamente inédita",

Las imágenes ganadoras de este certamen, han sido seleccionadas por un jurado internacional compuesto por Lewis Blackwell (UK) CHAIR, autor y director creativo; Sandra Bartocha (Germany), fotografa y artista de naturaleza; Stella Cha (USA), directora creativa en The Nature Conservancy; Paul Harcourt Davies (Italy), fotógrafo de naturaleza y autor; Sekiji Kazuko (Japan), comisario y fotógrafo en Tokyo Metropolitan Museum of Photography; Thomas D Mangelsen (USA), fotógrafo; Kathy Moran (USA), editora senior de historia natural en National Geographic Magazine; Dr Alexander Mustard (UK), fotógrafo submarino y Thierry Vezon (France), fotógrafo de naturaleza.
Las obras han sido premiadas por su composición artística, por sus técnicas innovadoras y por la interpretación realista de la naturaleza. En la categoría de Desde el cielo, el fotógrafo Pere Soler ha sido galardonado por su fotografía titulada Art Of Algae; en la categoría Impressions, la fotografía Life Comes To Art de Juan Tapia; en la categoría de Detalle, la imagen de Fran Rubia titulada Meltwater Forest.
Sobre Wildlife Photographer Of The Year
Wildlife Photographer Of The Year inició su andadura en 1965, cuando la BBC Wildlife Magazine, por entonces llamada Animals, creó unos premios con tan solo tres categorías y 500 obras presentadas. Incluso entonces, a pesar de ser unos premios jóvenes sin trayectoria, ya era un evento muy transcendente en el mundo de la fotografía de naturaleza.
El año 1984 fue clave para los premios ya que el Museo de Historia Natural de Londres se involucró en ellos creando los Wildlife Photographer Of The Year que conocemos hoy en día. Ahora, cuentan con cientos de participantes de al menos 100 países de todo el mundo. También se realiza una exposición, considerada la mayor muestra en el Museo de Historia Nacional, en la que pueden verse las obras seleccionadas recorriéndose así lo mejor del año.
Las imágenes premiadas son vistas por millones de personas al aparecer en la web del Museo de Historia Natural, en la revista de la BBC Wildlife Magazine y en diversas publicaciones internacionales.